SINGAPORE[7 AUG] ASEAN - KOREA 1:1 Zoom Meeting - Explore the Possibilities of Business with Korean Smart Solution Developers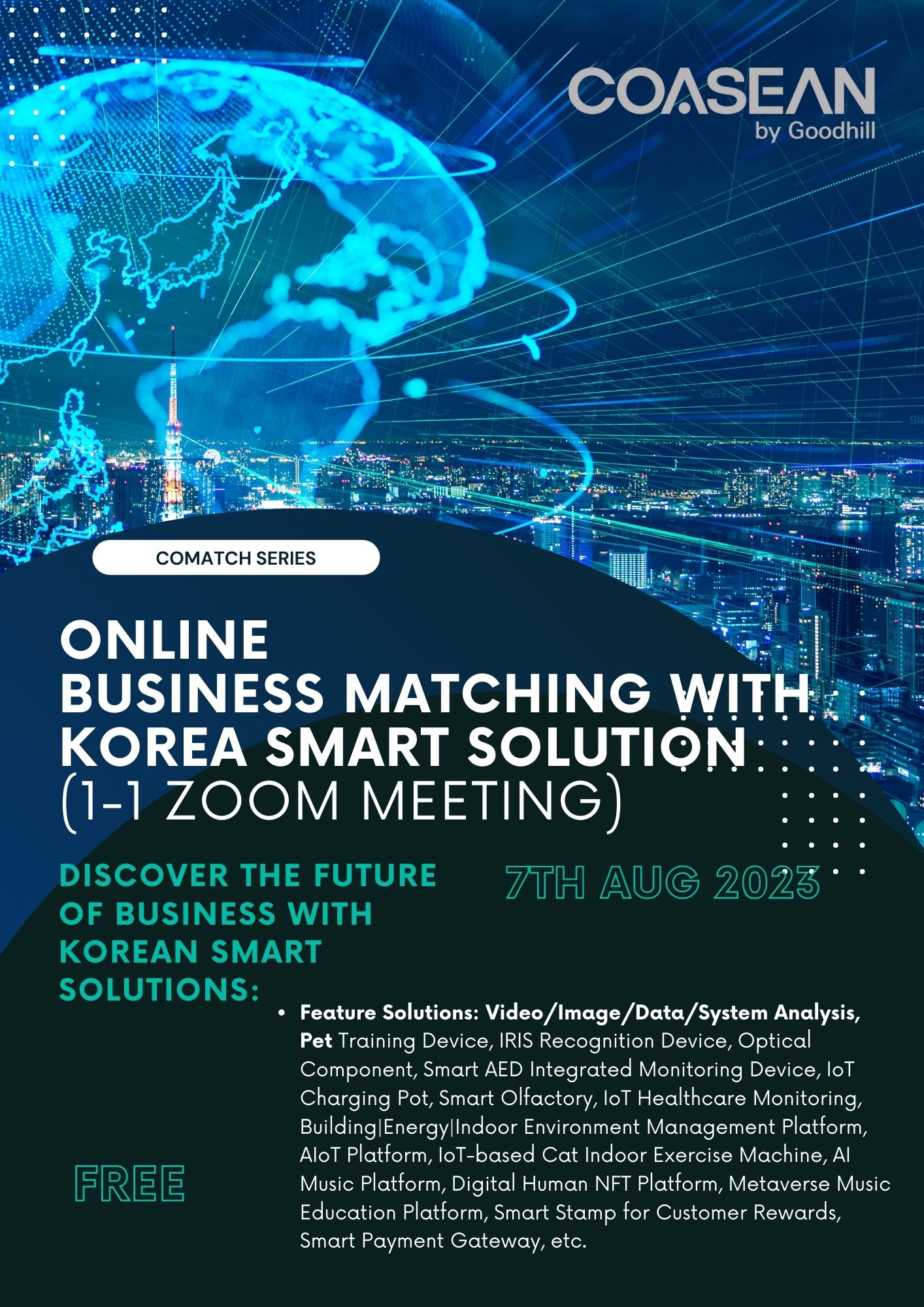 Dear Sir / Madam
Warmest greetings from COASEAN.
We are thrilled to extend a personal invitation to you for a game-changing virtual event- K-Smart Solution Zoom Meeting 2023, featuring Korean Smart Solutions vendors.
Event Date: 7th August 2023 (Monday)
Event Type: 1 on 1 Zoom Meeting
Feature Solutions: Video/Image/Data/System Analysis, Pet Training Device, IRIS Recognition Device, Optical Component, Smart AED Integrated Monitoring Device, IoT Charging Pot, Smart Olfactory, IoT Healthcare Monitoring, Building|Energy|Indoor Environment Management Platform, AIoT Platform, IoT-based Cat Indoor Exercise Machine, AI Music Platform, Digital Human NFT Platform, Metaverse Music Education Platform, Smart Stamp for Customer Rewards, Smart Payment Gateway, etc.
We have attached a directory that provides details on each of the developers and their featured solution. Our unique on-on-one business matching format allows buyers to connect directly with vendors, establishing a strong foundation for successful partnership.
Event Directory: https://drive.google.com/file/d/18X1XihYTySLH5Ul04i6quOICnk2zKjvq/view?usp=sharing
Individual Supplier Catalog : https://drive.google.com/drive/folders/1sIhdJTO-sVj5_cU_dLs1j8EXGd-e-GAu?usp=sharing
Secure your spot now to reserve your 1-on-1 meetings and be at the forefront of the future of technology. Register today and embark on a journey of innovation and growth.
Registration Links : https://forms.gle/5M4QTUftaM6eVH5y5
We eagerly anticipate welcoming you to this exclusive event on the 7th of August 2023. Together, let's shape the future of your business with Korean Smart Solutions.
Marketing Manager
Jerena Chun
+65 6362 3512 l jerena@coasean.com